STAYING IN TOUCH
Staying in touch with your customers and potential customers is an essential part of business and if this is not done regularly, they will soon forget about you. This can be almost impossible to manage without extra help of some sort.
This is where eParrot comes in, and with effective email marketing, you can remain in contact with your customers and potential customers regularly.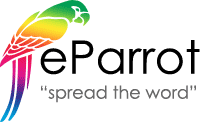 EASY TO USE SYSTEM
With an easy to use system and pre-made email templates, you can build your list and manage your contacts more effectively. Whether you want to create a simple email newsletter or automated personalised campaigns, eParrot is the system you need.
GREAT REPORTING FEATURES
The reporting features allow you to track your campaigns to understand your contacts better. You can see how many people you emailed each campaign to as well as how many people opened the email. You can even find out which links within your email were clicked on and who clicked on them.
SPAM ACT COMPLIANT
With the spam laws these days, you can not take the risk to manage your own email list. Not only that, managing this on your own is tedious and time consuming if somebody wants to unsubscribe from your mailing list. With eParrot, you don't need to worry about any of that, because it handles unsubscribe requests automatically and keeps track of who is subscribed and who has unsubscribed.
Results
Digital Dreams have re-engineered our web presence to focus on the important things to us such as getting clients and selling franchises, and from last month's results they are certainly getting us results.
John Birse
Jim's Bookkeeping